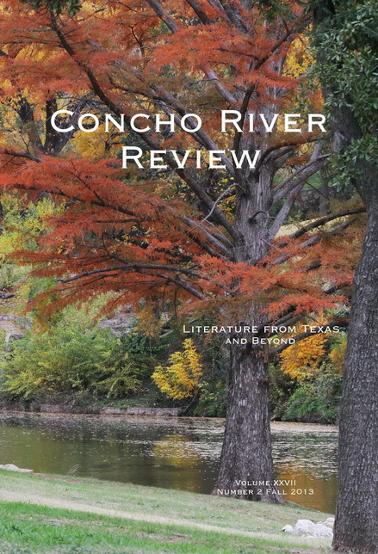 Concho River Review
Begun by novelist and short story writer Dr. Terry Dalrymple, Concho River Review is a biannual literary journal published by the Department of English and Modern Languages at Angelo State University. Since it was started more than twenty-five years ago, CRR has prided itself on publishing some of the Southwest's finest short fiction, non-fiction, and poetry submitted by both emerging and established authors. While CRR always will maintain its connection to the Southwest region and its rich culture, it now is accepting literature of the broader South and beyond.
In the words of our former editor Dr. Mary Ellen Hartje, CRR aims to provide its readers with "escape, insight, laughter and inspiration" for many years to come. We urge authors to submit to the journal and readers to subscribe to our publication. The necessary information for fiction submissions appears directly below. To subscribe, or for submission information regarding nonfiction, poetry, and/or book reviews, please see the Concho River Review website.
If you have questions, please inquire at: crr@angelo.edu.
Submission Information for Fiction
CRR welcomes fiction on all subjects, although we tend to publish traditional stories with a strong sense of conflict, finely drawn characters, sustained narrative momentum, and crisp dialogue. Length of manuscripts should be 1,500–5,000 words. Submit one manuscript at a time. Multiple submissions are okay, but please notify us immediately if your manuscript is accepted elsewhere. CRR accepts only original work that has not been published previously. We read submissions year-around.
Electronic submissions are STRONGLY preferred. Please include "CRR Submission" in the subject line. Email your submission to Andrew Geyer, Fiction Editor. All submissions must include a cover letter that provides the author's current contact information and a brief biography, résumé, or curriculum vitae. Electronic submissions must be in the form of a Microsoft Word® document or a PDF.
Although email submissions are preferred, we will continue to accept original work submitted on hardcopy by post. Hardcopy submissions must be printed on standard-size paper and should include a self-addressed stamped envelope if you would like your manuscript returned. Mail to:
Andrew Geyer, Fiction Editor
Concho River Review
Department of English
University of South Carolina Aiken
471 University Parkway
Aiken, SC 29801
Response time is two to six months. Correspondence regarding decisions will take place electronically when possible, so please include an accurate email address in your cover letter whether submitting via email or on hardcopy.
Contributors will receive a complimentary copy of the issue in which their work appears. CRR requests first rights—print and electronic—which automatically revert to the author of the work upon publication.