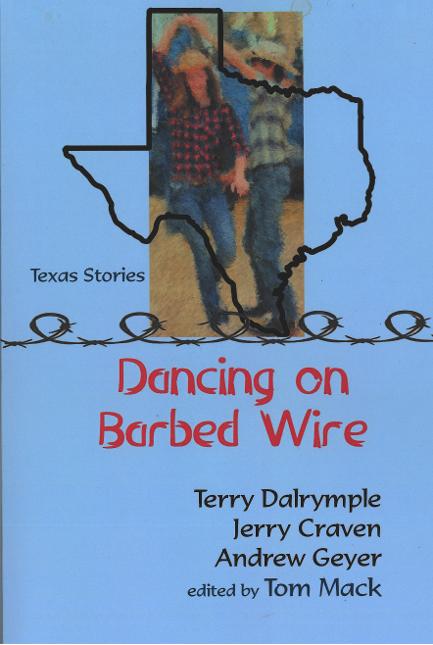 Dancing on Barbed Wire
Like nothing you've ever seen before in print. The closest analogies are in film—the works of Terence Malick—and in television—True Detective and The Wire. Nonlinear, threaded, thematically related, and revisiting characters and/or the descendants of characters, the three authors and the editor of the collection have created a world much more like the real world than most fiction. Readers will be hungry to devour the iterations of intertwined stories and will be rewarded with a realistic, deeply human and touching end—and, perhaps, continuance—to stories that begin as early as 1861 and conclude in present day. Dancing on Barbed Wire is addictive, so make some popcorn and get comfortable, because you won't want to stop reading until the last word.
—Jeanetta Calhoun Mish, Director of The Red Earth MFA in Creative Writing; 2017-2018 Oklahoma State Poet Laureate
Edited by Tom Mack and co-written with Jerry Craven and Terry Dalrymple, Dancing on Barbed Wire is Andrew Geyer's eighth book.
Only narrative wizardry could alchemically transform dead dogs, decaying feral cats, shifting patronymics, and generations of genetic and self-made bastards into gorgeous literature. Yet this is precisely what these three masters of the short story have done in Dancing on Barbed Wire. The stories are so exquisitely crafted and ingeniously interconnected that they appear to be unrehearsed, spontaneous tales, a delight for readers and a despair for critics eager to pounce on any disqualifying faults. There is none.
—Harold Raley
As a lover of short stories, I was intrigued by the concept of three well-known authors collaborating – in a sense. Each author developed a narrative that was handed off to the next, almost as a challenge, to expand and elaborate. The result is a fast-paced, satisfying and seamless narrative that all comes together in the end. Highly recommended!
—Carolyn Wiseheart
A seamless performance of short stories executed by the trio of Craven, Dalrymple, and Geyer. One can liken their synchronized voices to artistic swimmers where the elements of artistry and precision are key. Their individual skills and strengths as writers are evident in their collective voices. It is difficult to determine where one voice begins and ends as they take us on a journey of betrayal, lust, and love that starts in the 19th century and ends in current day. The sophistication in which they used to make these ensembles of characters come alive on the page deserves a standing ovation.
— Loretta Diane Walker