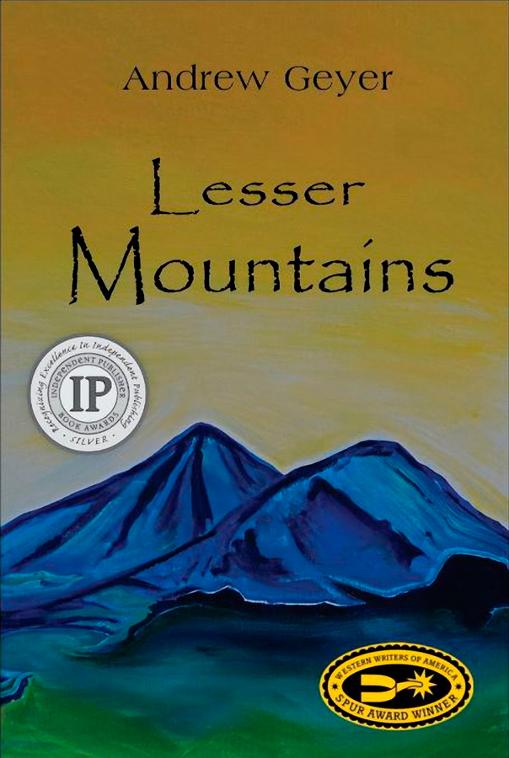 Lesser Mountains
The voices of these characters are raw and real, and they cry out to be heard.
The interwoven stories in Lesser Mountains delve into the lives of the fictional people living in and around the small town of Jordan, Texas, in much the same way Elizabeth Strout's Olive Kittredge does for those living in Crosby, Maine.
Texas settings, common themes, shared imagery, and intertwined plots combine to reveal the life arcs of everyday folks who find themselves displaced by the passing of the rural Southwest Texas way of life. The protagonists for the major plotlines are introduced in the opening story, and the subsequent narratives link the trajectories of their lives in unexpected and fascinating ways—a novelistic effect that makes the whole much more than just the sum of its parts.
Published in 2019 by Lamar University Press, Lesser Mountains is Andrew Geyer's ninth book of fiction. Awards and honors for the cycle as a whole include:
2020 Independent Publisher Book Award (IPPY) for U.S. South - Best Regional Fiction, Silver Medal

2019 American Book Fest Best Book Awards - Short Stories Category, Finalist
Awards and honors for the individual stories in Lesser Mountains include:
"Fingers" won the 2015 Spur Award for Best Short Fiction from the Western Writers of America

"Lament for a Larcenist" won the 2011 Gary Wilson Award from descant
Cover art by Austin, Texas artist Eric Beverly.
These stories span a broad emotional spectrum, from coming-of-age angst to white-hot desire and heart-wrenching grief. Despite great diversity of themes and narrative personae, Geyer achieves an overarching unity through his use of serial characters and interlocked plots, capturing the grit and occasional glitz of the Lone Star State in a composite portrait enriched by tributes to such literary titans as Ernest Hemingway, Ambrose Bierce, John Graves and Virgil. Ultimately, though, the thread that runs through the entire collection is the author's concern with the effects of love—or its absence—in the lives of his characters. It's no accident that one of the opening epigraphs comes from First Corinthians. Word by word, page by page, Andrew Geyer creates a mosaic of faces, places, voices, and events that will linger, deep and luminous, in the minds of his readers long after they have closed the book.
—Carol Coffee Reposa, 2018 Texas Poet Laureate
Whether it's a cow horn necklace or a futon on fire, Andrew Geyer's stories brim with details, a you-are-there involvement of the reader as witness. His puro-Texas characters assert themselves to strangers, drive fast, have their reasons, overextend, act within their code of honor. And Geyer has their talk down cold—the reader can 'get it' just by listening in.
—Jan Seale, 2012 Texas Poet Laureate
Andrew Geyer is a contemporary master not only of the short story but of the story cycle as well. The powerful stories of Lesser Mountains are as seamlessly unified as the chapters of a novel; but unlike the novel, each story ("chapter") is complete in and of itself. One of Geyer's considerable strengths is the haunting realism of his characters which he achieves, in part, with stunning psychological insight and spot-on dialogue. Lesser Mountains further solidifies Geyer's already distinguished achievement in fiction of the highest order. Highly recommended.
—Larry D. Thomas, 2008 Texas Poet Laureate